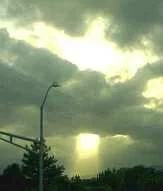 This month's real angel pictures were sent to
Angels & Ghosts
for all to see this Angelic season!
Each angel picture has its own page & story. We post angel, inspirational, and spiritual pictures of possible spirit guides & loved ones from the light.

November 2007 Angel Picture of the Month:

Amish



Discuss angel pictures at the Angels & Ghosts Forum!
Mess
with
Bigfoot
Learn
Soccer
Tricks
UFO Picture
US
Tractor
Pulling
Get the latest
updates by
e-mail...