Ghost Stories   October 2007                            Back to 
Ghost Stories
This month's real ghost stories were sent to 
Angels & Ghosts
 for all to read this Halloween season!
Each ghost story has its own page.  We post ghost stories of personal ghost encounters & and ghostly experiences.

October 2007 Ghost Story of the Month: 
Simone's Ghost Story
Oct '07 Ghost Stories
Simone's Ghost Story
Simone's house is haunted by a shadow ghost that is negative in nature.  Read her encounter and discover how powerful a negative entity can be.  Simone is currently working to help direct this wayward spectre to the light with loved ones and unto spiritual healing.
Oct '07 Ghost Stories
Two Ghost Stories
Little things that occur in a house can be unusual when we look closer...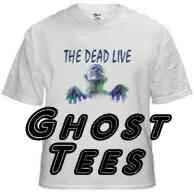 If you are looking to go on a ghost hunt with ghost hunters, you can do so with John Kachuba in his book: Ghosthunters.
(far left)

If you would like to learn about ghost possession, then The Unquiet Dead is a must read by Dr. Edith Fiore. (see left)
Discuss ghost stories at the Angels & Ghosts Forum
Mess
with
Bigfoot
Learn
Soccer
Tricks
UFO Pics Videos
US
Tractor
Pulling
Get the latest  updates to Angels & Ghosts by email.  Find our latest postings of angel & ghost stories, pictures & more!

Are you looking for a good encyclopedia of ghosts and spirit information? 

We recommend you buy The Encyclopedia of Ghosts & Spirits.
(see below)