Download our 200+ page book now for only $4.99!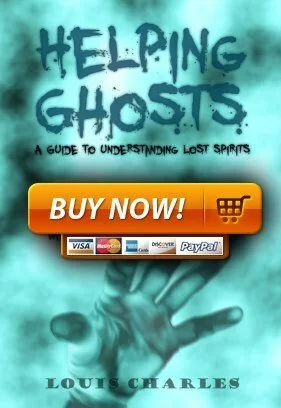 Helping Ghosts: A Guide to Understanding Lost Spirits will teach you about the ghost mind and how you can end haunting.


In our eBook, you'll learn about:
The spirit realm and spirit helpers
Field experiments with actual cases of haunting
Ghost communication techniques
Dealing with negative spirits
Helping ghosts transition to the light
...and much more!


Author Reviews
"This book is a must read for any individual who is interested in the paranormal, spirits, ghosts, and the metaphysical world. It is a breath of fresh air, greatly needed in the plethora of related books, and focuses on the often overlooked subject of 'helping ghosts.' It is both an informative and educational read." -Sherri Brake, author, The Haunted History of the Ohio State Reformatory

"With love, compassion, insight and a treasure chest of experience and knowledge, Louis Charles illuminates the world of ghosts - some of whom may be our own 'deceased' loved ones - and how we may help them. I highly recommend this book." -Robert Schwartz, author, Your Soul's Plan: Discovering the Real Meaning of the Life You Planned Before You Were Born


Amazon Reviews
(24 - 5 Star Ratings)



"This book is fantastic. I would HIGHLY recommend reading this if you are even the least bit interested in helping earth bound ghosts move on to the light..."

"Louis Charles really explains why people become ghosts, why they behave the way they do, why they are misunderstood, what happens to us after we pass away & more."

"I would highly recommend this book to anyone who is a paranormal investigator or someone who may believe there is a ghost who has taken up residence with them and wants to know how to deal with it."