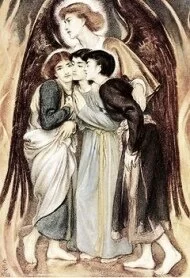 Author John Geiger recounts stories of three different people who experienced a visitor who encouraged them through tremendous crises. Were the unknown visitors angels, spirit guides, disembodied people in spirit or a psychological phenomenon that came to rescue them? We call this experience, "Third Man Angels."
The book, Third Man Factor explores the stories and ideas surrounding a common phenomena that people describe during great emotional trials of someone being with them, not unlike the biblical story of Shadrach, Meshach and Abednego.
Who could forget the shocking story of the three innocent men being tossed into a fiery furnace, a description of the most severe of life test. While the men were within the flames, the original story tells of a fourth man being observed walking among them by King Nebuchadnezzar. (See Daniel 3.) Could this be the Bible's version of Third Man Angels? True 'wing men?' (Yes, that pun was in jest.)

Perhaps, we need to continue to re-examine our ideas about angels. The book about the Third Man Factor is published by Weinstein Books and available on Amazon.
The following is a review of the book by the LA Times from 2009:
http://www.latimes.com/entertainment/news/la-caw-sirens-call20-2009sep20,0,1098155.story