Welcome to the Jesus Religion Book Resources and References Page.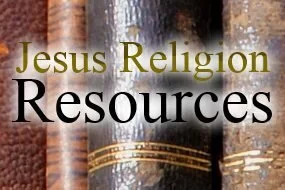 Here you'll find links to other sites for researching and studying Christianity, the "Jesus Religion."
"Many of the resources were used in my research for writing this book.

These are some of the books and websites I recommend for your own reference reading." - Louis Charles
The following links are interesting on-line resources for your own personal research.
These are just a few sources cited in the research of the Jesus Religion Book:
The Milton Reading Room http://www.dartmouth.edu/~milton
Internet Medieval Sourcebook http://www.fordham.edu/halsall/sbook.html
Early Church Texts http://www.earlychurchtexts.com
The Original Catholic Encyclopedia http://oce.catholic.com
The Catholic Encyclopedia http://www.newadvent.org/cathen/
The Gnosis Archive http://www.gnosis.org
Early Christian Writings http://www.earlychristianwritings.com
International World History Project http://world-history.org
Livius: Articles on Ancient History http://www.livius.org
Gateways to Babylon http://www.gatewaystobabylon.com
Tentmaker http://www.tentmaker.org
On Doctrine http://www.ondoctrine.com
RECOMMENDED BOOKS FOR FURTHER STUDY:
Misquoting Jesus: The Story Behind Who Changed the Bible and Why, Bart D. Ehrman
The Lost Religion of Jesus: Simple Living and Non-Violence in Early Christianity, Keith Akers
Harper's Dictionary of Classical Antiquities, Harry Thurston Peck
The Origin and History of the Doctrine of Endless Punishment, Thomas B. Thayer


Want to learn more about what was likely the real message of the man Jesus, as well as find freedom from fearful Christian ideas and teachings?

Then, get the book Jesus Religion and learn why Christian doctrines are illogical and cannot be true.
Find your path to spirituality and peace without all the religious devices.
Know that you are already eternally connected to God, the Spirit.
The book Jesus Religion is available on Amazon.com.
Know that you are already eternally connected to God and find your path to spirituality and peace.