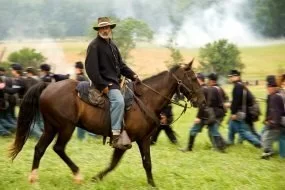 Entering the Gettysburg battlefield at dusk, what could we hear on our audio recorder? A story of our investigation into a haunted area from the times of the Civil War...

Our Investigation
We drove down near Devil's Den and parked in the small lot, walking to the Slaughter Pen area which is situated between Devil's Den and Little Round Top. Devil's Den is a strange formation of huge rocks located at the southern end of the Gettysburg battlefield.
Some History First
After fierce fighting to drive Union soldiers out of Devil's Den, Confederate soldiers fired their guns from these rocks and up toward the Union army embedded in the boulders on what is known as "Little Round Top."
Around, and in between, these two locations is where many fallen soldiers lay injured and dying in early July, 1863. It is known as the "Slaughter Pen," which has a small creek that runs through it called "Plum Run." It has a small bridge over top of it.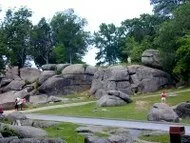 Though there are many places we could visit on the battlefield of Gettysburg or even within the town itself, we chose this location due to the sheer amount of tragedy that had befallen it so many years ago. The huge rocks of Devil's Den (seen here) was peppered with ghost hunters and quite noisy, so we elected to take the small path from the parking lot that wound over to Warren Avenue, that we crossed, eventually placing us at a rock between Devil's Den and Little Round Top.
From there, we walked down Warren Avenue, crossing Plum Run, to the stop sign and turned right onto Crawford Avenue, going about fifty feet and electing to sit on an outcropping of rocks on the other side of the road. These are the places we made our recordings, looking for soldiers who were wounded or needed help; asking questions pertinent to 1863. This region truly became a "Valley of Death." Acre for acre, Gettysburg itself is said to be the most haunted place in the United States.
Click on the thumbnails for a larger image and more information
Files
Q: "Are There Snipers?" A: "No."
"Get Me Out"
Q: "Who's President?" A: "Lincoln"
"Help me. Help me."
Q: "Is General Lee back behind us?" A: "Who's Lee?"
Q: "If you need help say, 'Help me.'" A: "Help me."
First Diagram Notes:
For those who wish to continue the investigation in the same area, at left is the region as seen from Little Round Top. The huge stones form Devil's Den (near the top - center), and Warren Avenue can be seen crossing the photograph from left to right. The white line is the path we took from the parking area from Devil's Den. We then proceeded down the street, crossing Plum Run and turning right onto Crawford Avenue. Devil's Den was too noisy with visitors at night to make our recordings.
Second Diagram Notes:
A detail from the Gettysburg Battlefield map showing where we recorded mysterious ghost voices. The orange X's denote the area between Devil's Den and Little Round Top where we worked with our audio recorder. 
After reviewing the recordings we made using an Olympus audio recorder in conjunction with a sweeping radio to provide audio bits and white noise, the following are transcripts of what we believe to be ghost voices captured within the audio at the above locations. See our audio files, above, on this page to listen to each ghost voice recording, described below - we recommend using earbuds or headphones to listen to each EVP recorded at Gettysburg:
Ghost Voices Recorded in the Slaughter Pen Area:
Q: Are there snipers? A: No.
We also captured this startling message in our recording: "Get me out!"
Q: Who's President? A: Lincoln (faint, but repeated two times)
Ghost Voice Recorded by the Rock beside Wilson Avenue:
Q: Are you with the Union, uh, or with the Confederates? A: What? Q: Are you with the North, the South or neither? A: The South (slowly said).
Ghost Voices Recorded on the Tiny Bridge over Plum Run:
"Help me. Help me." (they overlap slightly)
Ghost Voices recorded on the Rocks below Devil's Den (across from Plum Run):
Q: Is General Lee back behind us? A: Who's Lee?
And for a final treat, we captured this ghost voice at Evergreen Cemetery at night:
Q: If you need help say, "Help me." A: Help me.