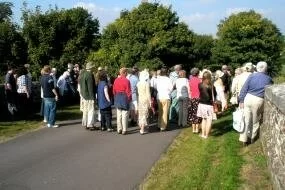 We list out some of the better known tours to explore haunts in the Northeastern United States...
Ghost walks and tours can be a blast - the perfect ending to a day, especially when on vacation or you are looking to do something a bit different. And, ghost tours are definitely different.
Ghost tour presentations can include walking or riding in vehicles. Some are full of humor, drama or masterful story-weaving to inspire the imaginations of visitors. It really depends on how good our tour guide is: Does he or she know the local history? Can they speak and engage the audience? And if you search real hard, you might find that some ghost tours even loan out ghost detection devices, such as meters and dowsing rods. So compare, compare, compare.
Our list of ghost tours, below, are found within the Northeastern US. Our listings are broken out by State:
Connecticut Ghost Tours
Haunted Connecticut Tours
Offering day and evening tours, and even overnight stays in Stratford!
Invisible Past Paranormal & Spirit Tours
Based in Connecticut and serving the New England & Southeastern regions of the United States!
Delaware Ghost Tours
Delaware Ghost Tours
Offering historical tours with a touch of the paranormal, including equipment, training & more.
District of Columbia Ghost Tours
Georgetown Ghost Walk
Tour Washington D.C.'s finest neighborhood and deep secrets from the forgotten past.
Haunted Walking Tours of Washington, DC
A professional tour guide will lead you by lantern to learn of the Capitol's rich haunteings!
Maine Ghost Tours
New England Curiosities
Featuring ghost tours by author Roxie Zwicker of Maine and haunted New England.
Maryland Ghost Tours
Baltimore Ghost Tours
Offering the Haunted Pub Walk, Mt Vernon, and Fell's Point ghost tours...
Massachusetts Ghost Tours
Ghosts & Gravestones Ghost Tours
Tour some of Boston's oldest burying grounds and climb aboard the trolley of the doomed.
Boston Spirits Walking Tour
Jim McCabe is an excellent story-teller and Boston is loaded with history.
Life and Death Tours
Take the Ghosts & Gore Tour and learn about Salem's bloody past!
Colonial Lantern Tours
Twenty five years of relaying the history, legends, and hauntings of Plymouth.
Salem Ghost Tours
Enjoy a lantern-led stroll down Salem's historic streets; learn of ghosts, witches and legends.
Spellbound Tours
Located in Salem, the spooky city of witches, this ghost tour is featured on the Travel Channel.
New Hampshire Ghost Tours
New England Curiosities
Featuring ghost tours by author Roxie Zwicker of Portsmouth and haunted New England.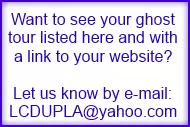 New Jersey Ghost Tours
Keyport Ghost Tours
Ghost tour this historic city by lantern light.
Haunted Cape May Tour
Cape May is a hotbed of paranormal activity. Join this tour of haunted houses...
New York Ghost Tours
Ghosts of New York
Get the haunted Big Apple experience with licensed tour guides.
Ghost Doctors
Join Dr. Pete and Dr. Stew for a tour to investigate haunted New York City.
Pennsylvania Ghost Tours
Bedford Ghost Tours
Dedicated to entertaining guests through the lost art of story-telling.
Spirits of '76 Ghost Tour
Visit more than 20 of Philadelphia's frights and sights!
Ghosts of Gettysburg
Author Mark Nesbitt who write the books of the same name conducts this popular ghost tour.
Farnsworth House Ghost Walk & Mourning Theater 
Gettysburg candlelight ghost tours and Mourning Theater.
Haunted Gettysburg Tours
Author Bob Wasel who write the Haunted Gettysburg series of books conducts this tour.
Rhode Island Ghost Tours
Providence Ghost Tour
Let yourself be led by lantern through the darkened streets of the historic East side.
Vermont Ghost Tours
Queen City Ghost Walk
A guided ghost tour through the streets and haunts of Burlington, Vermont.