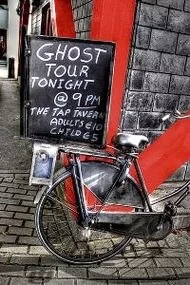 Tips on how to find the best ghost tours and what you can do to insure you have a great experience.
For starters, allow me to suggest that research is your best friend. Researching the ghost tours in a given area will help one to decide which tour is the best for the money. I prefer to research the background of the operators (if offered), and the history of the tour. Ghost tours that are successful will have been around for awhile, and operators specializing in history or who have authored books will typically have done very good research into an area's history and haunted lore.
Also pay attention to any mention of "paranormal research." Seasoned paranormal investigators typically are level-headed and will often provide ghost investigation equipment for their participants. When I go on a ghost tour, I either want some good history and story-telling, or an all-out ghost hunt! Ghost investigation with tools provides that additional ghost hunting experience. While I am on this subject, also be sure and see if it is OK to bring your camera, video camera and any other investigation tools you might like.
[I also take notes of the ghost tour, what others have seen, the history of ghostly sightings, etc. Often, someone in your group will capture a great ghostly photograph. Ask that person to send you a copy of it by e-mail (or ask if the tour operator will do so).]
I prefer walking tours, especially when we not only visit the outside of buildings, but get to venture within them. Not everyone can walk distances of a mile or two, so be sure and select a ghost tour that caters to your needs (by bus, trolley, train, etc), as well as your comfort level.
Look for customer comment sections on ghost tour websites or on their social media pages (Facebook, Google+, Twitter, etc.), as well. Reviews can give you some idea of what to expect, but don't stop there. You can Google the ghost tour by name and see if you can track down experiences (positive or negative), or try using Trip Advisor (http://www.tripadvisor.com/) to see if you can source comments from past ghost tourists.
When looking for an out-of-town ghost tour, I also like to ask the hotel I am staying at. Chances are the local community is well aware of the ghost tour and quite willing to offer their opinion. While speaking with them, ask about the haunted history. Also, Google the haunted history of the area you wish to tour. It's good to have some idea what to look for in a region, because maybe the local ghost tours specialize in different haunts. Which one do you prefer to see and hear about most? Come to the tour prepared.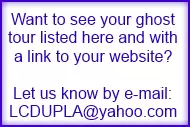 With any ghost tour, book in advance to secure a spot (most ghost tours book-up in the Summer and Fall) and ask about the touring company's refund policy. I prefer to do business by credit card, so I can cancel payment if services are not rendered.