October, 25th, 2014
Now's your chance to buy an authentic Frank's Box!
We were asked to help get the word out about to two unique ghost boxes built by legendary ITC experimenter, Frank Sumption.
Frank's Box #146 and a rare 'video box' are being offered for sale just in time for Halloween 2014 by a paranormal investigator/ghost box collector. Both Franks boxes were acquired from a psychic medium who received them by Mr. Sumption as gifts.

A Frank's Box is an electronic communication tool used to contact the spirit world.

We were contacted by the owner of the two Frank's Boxes to make an announcement to those interested in the paranormal. Given the fact that only about 180 of these devices were hand-built by inventor, Frank Sumption, we felt their upcoming sale to be significant news. Interested buyers will be referred by us to the owner of them where payment will be made directly to him through PayPal (Contact us by using the form on our Contact page).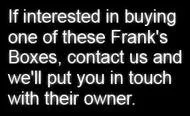 Both Frank's Boxes were built in 2013 with one of them being rare, 'Vid Box #4.' It is believed that only 5 video boxes were ever created by Mr. Sumption who recently passed away in August. The Frank's Box is considered to be the original 'ghost box,' intriguing ghost hunters and challenging traditional paranormal investigation methods. Through use of the device, experimenters have claimed to hear the voices of spirits, ghosts - even aliens.

The device sweeps the AM or FM bands to produce audio fragments and white noise that work together to produce messages - what experimenters believe to be audible disembodied voices. Users typically ask questions, listening for the answers to be heard aloud through its speaker(s).
Click on the thumbnails for a larger image and more information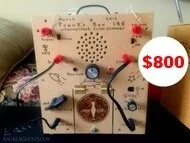 Frank's Box #146 Notes from Its Owner
"This ghost box has both AM and FM options and picks up a lot as it sweeps differently, more like traditional sweeps but not exactly - still has that tuning in kind of hallmark. (This) one is very cool as he built in the option of an echo box and outputs for external speakers etc."


The owner was originally asking $1495 but has agreed to sell box #146 for $800.

Frank's Vid Box #4 Notes from Its Owner
"The video box was made in 2013 and says VID BOX #4 on it. I know that the #3 video box was made in 2012, so I think Frank only made about 5 total of the Video Boxes, making it extremely rare for someone who is a collector."


The owner was originally asking $2495 but has agreed to sell the video box #4 for $1495.