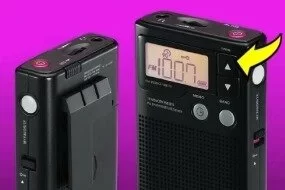 The following is a running list of radios that can be altered into a ghost box...
Steve Hultay of Keyport Paranormal has found radios that can be hacked, altered, allowing them to sweep and function as ghost boxes.
For those who are unfamiliar with the ghost box, it is a device that utilizes AM or FM tuner audio bits, coupled with white noise, in order to help bring forth the voices of ghosts and spirits. The radios are the cheapest and easiest ways to get a ghost box in a paranormal investigator's hands. Today, they are becoming difficult to find. So many are relying on the PSB-7 Spirit Box - a model that may be purchased.
In June, 2009 Steve discovered yet another Radio Shack model of radio that could be altered and used as a ghost box. It is radio model # 12-587 and costs $29. from Radio Shack.
The hack is as easy as removing three screws from the back of the radio, unscrewing the circuit boards and bending one of the pins mounted on the board. Re-assemble the radio and you are in business.
Steve also discovered that the Sangean DT-200VX radio can be altered, as well. He discovered this ghost box earlier in 2009, but it is worth mentioning if you can acquire this radio. The hack is very similar to what we just described. Removing a few screws, disassembling the radio, bending a pin and re-assembly; but you need the older model.
The Radios
It is also possible to acquire the harder to find radios from off of eBay. Most of these hacks have been discovered and written about by Steve, also. Here is the list of hackable-radios for ghost box use:
12-469 (white) Does not have a built-in speaker and makes a loud, undesirable tick. Easy to hack, though.
12-469 (gray & white) No ticking sound in this model which is good.
12-470 (gray & white) The black model will not work as a ghost box.
20-125 AM/FM/Shortwave with built-in speaker.
12-820 Armband radio works well, though we have had some instability with the sweep. Add an external speaker.
12-850 AM/FM with built-in speaker.
12-587 AM/FM with built-in speaker. Simple hack.
12-588 Armband radio. Add an external speaker.
Sony Walkman (#SRF-M37V) Not a hack - just hold down the tuner button and add an external speaker.
Sangean DT-200VX Ghost Box - AM/FM with built-in speaker (older model before the circuit board was changed).
Steve gave detailed instructions, along with photographs to make this easy. Visit his page: Simple Ghost Box Hack for detailed instructions.