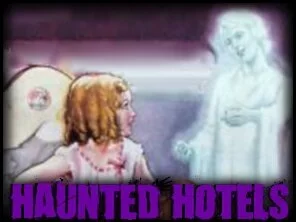 Our listing of favorite haunted hotels and inns in the United States...
According to our paranormal research, these are some of the best known haunted hotels in modern history. With many of them, you can still book a room and attempt to experience ghost activity first hand.
Haunted Hotels: The Stories Behind the Haunting
Learn some history behind the haunting of these legendary hotels. We've included several stories of people's experiences in haunted hotels across the United States. (We thought it good to provide you with some examples of what you may be up for if you choose to stay in a hotel that has an active haunting. Be prepared, especially if you have small children you wish to bring with you. Some stays can become quite scary for youngsters!)
List of Haunted Hotels
Before you head-out on vacation, why not find your haunted place to stay? Also, see our Haunted Hotels Map. While vacationing, first locate any haunted inns, motels and hotels you can find in the area. Even if you do not want to stay, some places will offer tours. So stop at a hotel's front desk and see if your host can provide any information about the history or haunting of the site - then explore.
Brass Lantern Inn - Stowe, Vermont hotel guests have heard ghostly people talking or arriving at night.
Brown Palace Hotel - Denver, Colorado has a socialite ghost that doesn't like her tale re-told.
Bullock Hotel - Deadwood, South Dakota hotel has the ghost of its first sheriff.
The Buxton Inn - Quaint Granville, Ohio hotel has a very haunted room you can stay in.
Equinox Resort & Spa - Haunted hotel in Vermont formerly visited by the Lincolns.
Grove Park Inn Resort - Asheville, North Carolina has a Pink Lady that haunts this hotel.
Heathman Hotel - Haunted hotel in Portland, Oregon with an active spirit.
Historic Jefferson Hotel - See our story, above, of haunting at this Texas hotel!
Historic Sheridan Inn - Haunted vacation in this Wyoming hotel where Buffalo Bill stayed.
Hollywood Roosevelt - The 1920 - 30's movie industry used this California hotel. Catch an old star?
Hotel Jerome - 1889 Aspen, Colorado haunted hotel has a dripping wet ghost.
Hotel Maison de Ville - Have a stay in New Orleans at this reportedly haunted hotel.
Hotel San Carlos - Breezes and noises haunt this hotel in Phoenix, Arizona. Many stars stayed here.
Inn at 835 - Springfield, Illinois - is the spirit of Bell Miller still here.
Inn at Merridun - Even the cat sees spirits at this hotel in Union, South Carolina!
John Stone's Inn - Ashland, Massachusetts eatery has 6 or 7 spirits possibly roaming the inn.
The Marshall House - History of haunting at Savannah, Georgia's old, old hotel. Beautiful and on the main drag of the historic district.
Martha Washington Inn - Room 403 in this hotel is reportedly haunted. Located in Abingdon, Virginia.
Menger Hotel - Can't get more historic than a haunted hotel in San Antonio, Texas, near the Alamo.
Monte Vista Hotel - Flagstaff, Arizona haunted hotel has a phantom bellboy.
Napa River Inn - Former California mill is said to be a haunted hotel with two sad ghosts.
Notchland Inn - Hart's Location, New Hampshire. Encounter a spirit while staying on vacation?
The Haunted Ott Hotel - Book a ghost tour at this Texas hotel or stay in a room with ghosts.
Queen Mary Hotel - Long Beach, California cruise liner with a history of hauntings and deaths.
Red Brook Inn - Old Mystic, Connecticut hotel haunted by an old lady. Currently, it is reportedly "closed."
The Sagamore - Bolton Landing, New York hotel with a cigar-smoking ghost on Lake George.
The 17Hundred90 Inn - This inn in Savannah, Georgia has a ghost named Anna. Stay in the haunted room where Miley Cyrus experienced weird things!
Thornewood Castle - Lakewood, Washington vacation experience. Ghost manifestations are said to be regular.
Thayer's Historic Bed & Breakfast - Choose this Annandale, Minnesota hotel for a haunting vacation stay. In 2013, it was up for sale.
More Haunted Hotel Tips
The list of hotels have been chosen from several haunted hotel reviews and are quite possibly the best haunted hotels around the United States posing the best chance to experience a personal encounter with a ghost. Many paranormal chasers choose to go to haunted hotels to search for ghosts when on a vacation instead of somewhere ordinary, because as investigators, when you stay in a haunted hotel, you can be there around the clock and are, therefore, more likely to experience something extraordinary.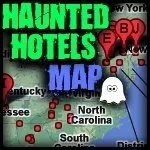 Why Explore Haunted Hotels?
Some of the best vacations are those where history and haunting can be experienced. So, try and book a haunted hotel. Haunted hotels can be an experience of a lifetime...a vacation where history is blended with the paranormal. The exploration of haunted hotels bring spirited adventure and will cause the mind of the vacationer to wonder and consider the existence of ghosts - people who are with us in spirit.
What You Might Experience
Some have experienced moving objects, ghostly voices, apparitions, touching, goose bumps and more while staying in haunted hotels. Many hotels offer a haunted ghost tour of the premises, typically showing rooms where misfortunes have occurred, recounting colorful tales of the hotel's guests and history and ghost sightings shared by guests and the staff.
More Haunted Pages...
Haunted Vacations
Ghost Tours