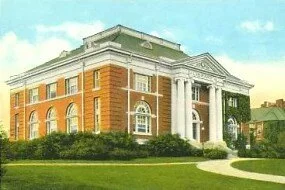 Haunted Libraries of the Southern United States are historically of note due to the Civil War battles, and of course, tragedies that impacted much of the South. Many patrons have experienced haunting activity within the walls of these gems.
Alabama Haunted Libraries:
Albertville Public Library - water spicots turned on and an elevator that operates on its own.
Linn-Henley Research Library - Birmingham's former library is home to the ghost of one of its directors who still smokes.
Gadsden Public Library - the library's founder still haunts the third floor.
Bay Minnette Public Library - librarian Annie Gilmer is said to still haunt the building.
Tuscaloosa Public Library - an eerie presence has been noted in places, such as the first floor, and basement.
Amelia Gorgas Library - located on the campus of the University of Alabama in Tuscaloosa, the library is believed to still be haunted by Amelia, a past librarian.
Arkansas Haunted Libraries:
Phillips County Library - footsteps and other noises haunt the third floor storage room.
Saline County Library - Benton's Old Palace Theater was once the library until 2003, which was well known for various haunting activity reported by librarians. Theater ghosts?
Florida Haunted Libraries:
University of South Florida Library - the apparition of a female student has been seen on the fourth floor. A library assitant, she sadly committed suicide in 1976.
Southwest Miami High School - media center has reports of haunting activity.
Howard Blake High - Tampa school library is known for cold spots by the back tables.
Warren Library - a janitor haunts Palm beach Atlantic University in West Palm Beach.
Kentucky Haunted Libraries:
Daviess County Library - the apparition of a small boy in shorts has been seen here.
Helm Library - located in Bowling Green on the campus of Western Kentucky University, a student who died tragically is reportedly haunting the library.
Mississippi Haunted Libraries:
Lee-Itawamba Library - John Allen is saod to haunt this library which was built upon the spot of the Congressman's Tupelo residence.
Meridian-Lauderdale County Library - touches by an unseen presence and cold spots are believed to be the work of resident ghost Jeanne Broach, a former librarian.
North Carolina Haunted Libraries:
Carl Rudisill Library - a small child has been heard crying within the library building.
Bladen County Library - books and furniture were moved around according to a janitor.
Beaver Memorial Library - a past director is believed to still work at this haunted library.
Earle Webb Library - the apparition of a fisherman walking in the library was reported.
Brawley Middle School - Mooresville has a middle-aged woman who haunts the library.
East McDowell Junior High - school in Marion was built on the site of a burnt down orphanage. The ghostly figure of the orphanage director has been spotted upstairs.
Raleigh State Library Room - located in the State Capitol, it is known for cold spots.
Saluda Public Library - branch of the Polk County Library is known for disembodied voices and footsteps from spectres.
New Hanover Public Library - in Wilmington, the ghost of a Civil War researcher inhabits one of the rooms. Sounds and files laying out have been reported, and a ghostly man has also been seen who resembled a Civil War officer.
Alexander County Library - Taylorsville library is home to a spectral woman in a dark coat.
BHM Regional Library - situated inside the Old Beaufort County Courthouse, this old building has strange sounds of broken glass emanating from within it.
Dale H. Gramley Library - Winston-Salem has its own haunted library with screams being heard on the third floor. Two students were electrocuted there in 1907.
South Carolina Haunted Libraries:
Charleston Library - the apparition of an old book collector has been seen within it.
South Caroliniana Library - the ghost of USC President McKissick has been seen in the library, while he is buried right outside it. Located in Columbia.
Hampton Plantation - McClellanville historic site has a library with a sobbing man and a self-rocking chair.
Tennessee Haunted Libraries:
Gilbreath Hall - formerly the library, East Tennessee State University in Johnson City has a resident ghost in its hall. An apparition has been spotted, along with doors being closed.
Ellis Middle School - Hendersonville's former high school is haunted by a figure that lurks in the second floor library and is called "The Colonel."
Vise Library - located at Cumberland University in Lebanon, this library has a ghost cat!
Hoskins Library - Knoxville's University of Tennessee is haunted by a former student who is heard after hours in the library. Smells of cooking are also reported.
Thomas Hughes Public Library - the organizer and librarian of this Rugby institution is said to haunt and has appeared with instruction for restoration.
John Willard Brister Hall - the University of Memphis' former main library is allegedly haunted by a raped student who can still be heard screaming.
Texas Haunted Libraries:
Alice High School - haunted by a male ghost who tosses books from time to time.
Boerne Public Library - formerly a general store, this library has a presence within it.
Dr. Garcia Middle School - paranormal activity in the library of this Brownsville school.
Oliveira Memorial Library - Brownsville's University of Texas is haunted with unexplained phenomena, such as moving doors and books.
Navarro County Courthouse Law Library - in Corsicana, walking spectres are heard.
Milby High School - Houston school is known to have a ghostly librarian.
Eagle Pass Public Library - formerly a post office, that now has ghostly foot traffic.
Houston Public Library Ideson Building - home to phantom music, possibly from a past janitor who lived in the basement and practiced his violin at night while walking the library.
McKinney Public Library - ghostly activity, such as books being knocked to the floor.
Fort Concho Museum - San Angelo army outpost from the late 1800's has a haunted officer's quarters (number 7). Known for moving doors and lights turning on mysteriously.
Briscoe Western Art Musuem - prior use for the San Antonio building was a library, that now is said to house phantom noises, voices, cold spots and objects moving on their own.
Texan Cultures Library - in San Antonio, "Old John" can be heard walking around.
Koogler McNay Art Museum - colonial mansion in San Antonio has a singing female ghost.
Whittier Middle School - a 15-year old female spectre purportedly haunts the library of thei San Antonio school after falling to her death on the staircase in the 1950's.
Sueltenfuss Library - haunted by a janitor in the basement of this San Antonio library.
Browning Library - legend has that this library in Waco and on the campus of Baylor University is haunted by Elizabeth Browning herself.
Virginia Haunted Libraries:
Blandfield House - Essex County mansion is haunted by a male ghost in the library.
Edgehill House - Fauquier County home has a library haunted by a Confederate Colonel.
Stratford Hall Plantation - haunted by Revolutionary War soldier, Henry Lee.
West Virginia Haunted Libraries:
WVU Campus Library - downtown Morgantown university library has had ghostly sounds and a presence experienced up on the now closed tenth floor.
Kingwood Public Library - built on the site of a former jail, this haunted library has plenty of activity, being possibly attributed to a prisoner who hung himself at the location.