A Ghost Investigation Story of the Haunted Leger Hotel
by Paul Dale Roberts, HPI Ghostwriter
We stopped at The Leger - 'Miami of the Sierra', 8304 Main Street - Mokelumne Hill, CA 95245. Michele Stump our researcher blurts out, "Hey, that's the Leger. It's reputed to be haunted!" I tell everyone, let's make a pitstop. I introduce myself to Jane Canty, owner of The Leger and she gave us a personal tour of the hotel and explained the history of the hotel to all of us. She even opened up the wine cellar and we were able to explore this area of the hotel. The Leger has been featured on the Discovery Channel. Jane explains that sometimes keys wind up missing, there are blue orbs that are seen. There is a spirit that everyone calls 'George'. The hotel once burned down and it was rebuilt. As I was walking around this hotel, Angel Kesti was telling me about her own experiences, she now lives in a haunted house and she constantly hears footsteps. Angel is very much aware of hauntings and gives me her insight to this hotel. Jane shows us George's room and George's portrait. George's room is Room 7. At one time a ghost-hunting group came to investigate and their camera tripod was mysteriously thrown to the ground. While we were taking digital photos, many of the investigators were capturing orbs on their photos. I talked with a gentleman that was staying in the hotel and he looked at me and said, "Did you know that Black Bart used to stay in this hotel? I think I am staying in the room he stayed at!" Jane Canty mentions the legends that stayed in this hotel, but never indicates that Black Bart stayed here.
As we continued with our tour of The Leger, I was told stories by Jane Canty about Rosa Leger, that wore a long white dress and she was a very proper person, she is sometimes seen at this hotel. Jane feels that there are 3 entities in this hotel. Jane provided email copies from some of her guests and as I was looking over one of the emails, a guest says that he heard an electrical buzzing while in bed and felt something touching his legs, it felt like bread crumbs landing on his leg and then felt electrical charges on his body. Another patron in Room 7, said she felt something pushing on her legs while she was trying to sleep, she was very scared from this experience. Some guests have heard the sound of children giggling in various rooms of the hotel. Another email, a patron experienced a 'shadow person' gliding from one area of the room towards the window and disappeared. Other patrons describe objects moving around, the smell of old aftershave mingled with copper, a woman's hair lifted from her scalp and suspended in mid-air in front of family witnesses. It appears from these emails, that many patrons experience paranormal activities in this old historical hotel.
As I explored this hotel, there are jail bars on the bottom windows. The hotel was once a jail and courthouse. The lavish banquet room was once the old courthouse. There was a fire in the hotel in 1875. I was taken to Room 11, which is known to be haunted by a female phantom. The HPI team were telling me they were capturing orb pictures in Room 7 and in and around the hallway. Stefanie was feeling a lot of human activity in the hallways. Patrons have said that they have heard a little girl crying in Room 3 or in Suite #1. Luminaries such as Grover Cleveland, Mark Twain and the bandit Joaquin Murriata have stayed in this hotel. When Jane told me that Joaquin Murriata stayed in this hotel, the image came in my mind of the wanted poster of Joaquin, it read: "Wanted, the head of Joaquin Murriata and the hand of 3-Finger Jack!" Joaquin did lose his head, when he was killed. Teddy Roosevelt of the Rough Riders once stayed here too. Jane says that she thinks there are 3 entities in this hotel, but by looking at the patron's emails, there seems to be a whole lot more. The history of this hotel is amazing. There was a hanging tree out back. So a criminal could be heard in the courthouse, land himself in jail and later hanged out back at the hanging tree. How convenient for the criminal. As I entered the cellar, I was told that patrons feel there is a teenage boy that haunts the cellar, something tragic happened to this boy in the cellar and not too many people want to stay in this cellar long. The place does feel quite creepy as I visually surveyed this underground dwelling.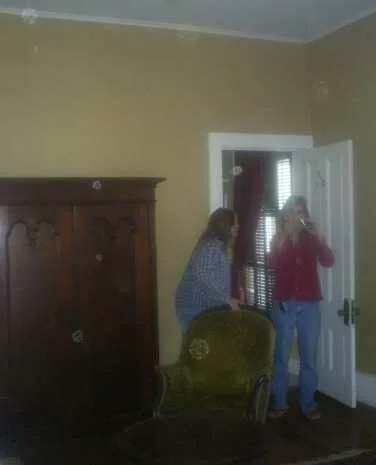 Michele Stump and I did some more exploring near and around The Leger, we stopped over at the Town Hall on 1901 Main Street and the Adams & Company/I.O.O.F. Hall. We discovered that The Leger was built in 1875 and it was built on the site of Hotel de France. Hotel de France was built on this site in 1851.
Some of the sensitives reported feeling a woman's presence, a sad lamenting sensation, or hearing people talking in the larger rooms.
I talked with Celeste Garamendi, an employee of the hotel and she tells me that one night while cleaning up the bar area,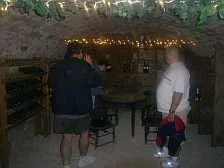 the grate fell to the floor fell on its own. Her sister Cherie who also works at the hotel had her arms full and the doors mysteriously opened by itself, allowing her to enter the other room without opening the doors herself. Wow!! The Leger is a place that we definitely need to come back and do a full blown all night investigation as I related this to Shannon 'Ms. Macabre' McCabe, President of HPI on my cell phone. Shannon was working the information booth at the Renaissance Fair this day and told me she met my father Paul M. Roberts and his wife Cindy Anderson/Roberts who also attended the Renaissance Fair. Shannon enjoyed hearing about my scouting mission and was completely fascinated with our experiences at The Leger.